You're all probably going to be so glad when the zombie walk is all over with and the hype has died down and I stop obsessing over it so much. Well, except those of you who are as FUCKIN' EXCITED AS I AM!
I did an interview for a university film crew who are doing a doco on the zombie walk. We filmed it at my flat since they could only meet me this week and it was the most convenient place for me while being quiet and well-lit. It was kind of cool, since they had about the same production values as I did in high school (I'm not shit-canning them, I mean this is good way) and was all AWWWWWW the whole time. I even got to dish out some of my old-school, back-in-the-day film knowledge to them, which was pretty exciting. I think they were impressed that a) I wasn't some ugly, weird nerd and b) I do a good interview. Well the latter is only because I've made enough documentaries to know how an interview should flow. I actually made them ask me more questions, since not having enough footage used to be the BANE OF MY EXISTENCE! Man, I miss film making.
On the poster side of thing, I have received two kind offers to help with putting posters up from

thorellie
and John, who I only met last weekend at Michelle's birthday party! So between the three of us I think we're going to cover pretty much everywhere I wanted to cover with minimal panic-attacks from me! YAY! Now I just need to get the after-party posters printed and put up and we're all done with that nonsense!
And lastly, I have been randomly making zombie pictures. I did one of myself in about two minutes for my facebook the other day but loved it so much I whipped one up for Anthony too (god knows why, since it's not like I don't have enough to do this week as it is):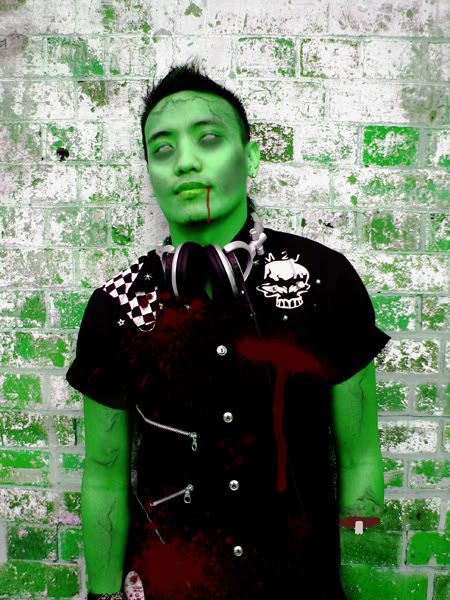 I need to have a rant. Friends-only post coming soon!