I had intended to go to mum's for an early night to do all the final stuff for the zombie walk, but I'd promised Jess last week we'd go see
Monster Zoku Onsomb
tonight, so despite being really tired (had to get up and go to work at
8AM
of all things, as I had a phone interview with 4ZZZ, a local radio station, about the walk). They're a local psychedelic/industrial electronica "band" and I've heard good things about them so decided to suck it up and go. WOW! They were awesome. Intense music and an amazing show. They are crazy!
But the best bit was at the very end when they started chanting "ZOMBIE WALK, ZOMBIE WALK, THIS SUNDAY, ZOMBIE WALK!" over and over. I mean I knew they were coming since one of them messaged me on Myspace about it, BUT OH MY GOD HOW COOL IS THAT?! I was so stoked I had to buy their EP. I don't know if they'll be too intense for me to listen to day-to-day but I think I might drop some of their tracks at the after-party (particularly "Eat Brains").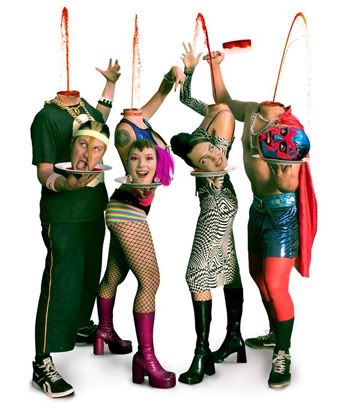 OK now it's time for bed before I collapse and die!