Profile

Free Account
Created on 2013-01-09 02:53:19 (#1930170), last updated 2013-01-15 (244 weeks ago)
13,706 comments received, 0 comments posted
1,678 Journal Entries, 288 Tags, 0 Memories, 2 Icons

About

Mini Bio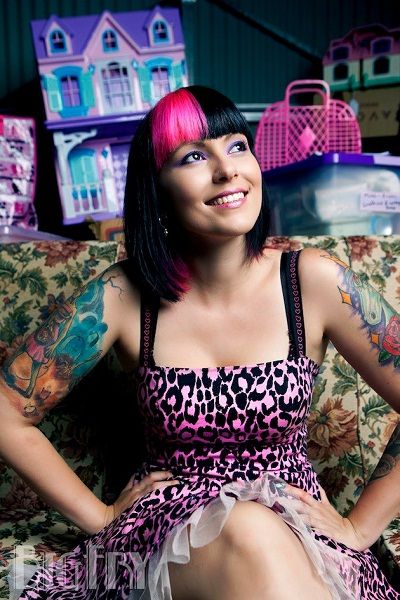 Hi. My name is Cara but I like to call myself Ruby Velour. I got it from a rock star name generator years ago and I've used it ever since.
I am mostly shy, with an obnoxious streak. I am obsessed with the colours pink and black, it's all I wear and colour of my hair. I am passionate about music, film, fashion and almost anything creative. I'm a dreamer and a hopeless optimist, but I do have a little bit of emo tucked away somewhere (though I'll deny it passionately if you ever asked me about it). I love tattoos and dancing and poodles (sometimes all at once) and am very good at creative swearing and inappropriate fist shaking.
I've done a decent amount of traveling, living in London for some time, with much more planned. I am a Branch Administrator for a busy office in the sunny city of Brisbane where's it always bloody hot or pouring with rain. When not at work making a humble living I like to get out and about and see the world or buy fabulous new things.
This is where I talk about more personal things and so as a result, therefore most entries are friends-locked. Please add me if you'd like to follow, otherwise check out my blog:
I also make and sell super cute accessories. Check out my online store:
http://www.rubykawaii.com

Connect

People
[View Entries]

[livejournal.com]
achtanablah
,
altarica
,
alterfalter
,
amaaanda
,
animesailor
,
arachnerd
,
arlecchinic
,
beeefcake
,
biancasboudoir
,
birdynumnum
,
black-lilly
,
bloodxtruancy
,
blue-budgie
,
boyz-kure
,
bubblesung
,
cathimclen
,
chemical-x
,
chocobolover
,
chris-coltrane
,
dancing-moon
,
danzaver
,
dark8nightshade
,
dead-corvette
,
deseverus
,
deutschrock-kid
,
diagon
,
dickcherry
,
dizzay
,
dotheclam
,
duff-star
,
dutch-nien
,
einheitstochter
,
el-dirty-one
,
exploding-nun
,
fabienne-s
,
fantasygoat
,
flowershoes
,
foreign-xchange
,
foxhare
,
frankenplush
,
frayed-misfit
,
girlandetc
,
good-like-jesus
,
goodsound-icons
,
gothikmaus
,
grenzdebil
,
grittio
,
gumbuoy
,
halo-of-thorns
,
honeymink
,
immortalmissy
,
inamoratakitsch
,
indigodao
,
insipid-bile
,
janainfur
,
jekyll1969
,
jessybxx
,
jonscsymons
,
keepclose
,
kittycat-black
,
kittysuck
,
kjira
,
klammerauf
,
klsse
,
kunzenberger
,
kyate
,
lady-glam
,
lady-ink
,
ladyfinger
,
laurrp
,
leavemenumb
,
lediablerouge
,
lia-blackstar
,
lilmissnorti
,
linaeloisetook
,
lovelyladyfolly
,
luwana
,
maceo
,
mandareevz
,
marijke1985
,
maximusscottius
,
mayet
,
meat-abstract
,
mekare-enra
,
melonoma
,
metzi
,
milli
,
misery-chick
,
mish-hall
,
mishiemoo
,
missjaala
,
missmonniexxxxx
,
modestmaya
,
monkeysareevil
,
moocards
,
natatree
,
nikscarlett
,
noir-nuanua
,
norticalmiles
,
pennysays
,
perdujolie
,
peregrina
,
pila
,
pixienamedkatie
,
posqito
,
practice-cactus
,
pretty-vacant19
,
pucker-up-ned
,
quirkydevotchka
,
ralph-piggum
,
raptor-au
,
raspberry-swyrl
,
raspberryrouge
,
reyi
,
rod-girl
,
sacredlyprofane
,
sadangel3
,
saltedpin
,
samoslav
,
schonste
,
schwimmerin
,
secretagentglam
,
secretsammy
,
serpentbite
,
shotgun
,
siarastar
,
skyesidhe
,
slash-kitten
,
smeardlipstick
,
sorion
,
splashinpuddles
,
spoiled-amoeba
,
sproutsandbeans
,
stasi-rainbow
,
stephywilecat
,
stratford-girl
,
surrealslut
,
sussurations
,
sweetphaex
,
tacks
,
tangochocky
,
taxidermied
,
the-adamwest
,
the-zapping
,
theallicat
,
thenegation
,
theravensclaw
,
thesc
,
thetaleofgenji
,
thorellie
,
threeparts
,
tie-me-down
,
titojones
,
twinkiechan
,
unbelangbar
,
vegasvalentine
,
vikingcarrot
,
vintage-mint
,
vorspeise
,
weaverandom
,
wierdgurl30
,
wunderblah
,
x-gekreuzigt
,
xellchiri
,
zakken
,
zoe-trope
,
zomb1etron
,
zombiehellcat

[users.livejournal.com]
_megalomania_
,
_snitchbitch
,
_telecaster
,
_tubularlove
,
disarm_

Communities
[View entries]

Feeds
[View Entries]

Subscriptions (0)

Linking
To link to this user, copy this code:
On Dreamwidth:
Elsewhere: